Greeks Take the Lead
Program Description
The Greeks Take the Lead Program is a mandatory workshop series for all fraternity and sorority chapters that are currently registered student organizations (RSOs) or are hoping to become a RSO. The Greeks Take the Lead Program serves as a way to help fraternity and sorority students feel empowered by providing further education on how they can intervene and end sexual violence in their chapters and greater community. All chapter presidents and risk managers (or another leadership member, if your chapter does not have a risk manager) participate in leadership-based interactive training, and all general members are required to choose a workshop focused on a specialized topic. 
100% attendance from every chapter member is required.
2023 Workshops
100% of your chapter members must receive GTTL credit in order for your chapter to be an RSO. As chapter leaders, you have a lot of power in general members' perceptions of the GTTL program. We hope you frame it as an empowering opportunity for members to learn how they are uniquely situated to prevent gender-based violence in their communities. 
We are very excited to host 11 great sessions facilitated by guest speakers to talk about how you as a member of FSL are uniquely situated to make positive culture change on campus around gender-based violence. 
Registration for GTTL general member sessions is NOW OPEN! Registration is required for all individuals who are planning to attend a general member session. The registration form can be found here (link). It can also be accessed through tinyurl.com/gttl-signup23. Please register for your session of choice with your MSU-affiliated email address. There are capacity limits for each session, so sign up soon!
Most sessions are occurring in-person, on-campus. Rooms will be announced as they are finalized. If you register for a session that does not have a room yet, you will receive an email with the subject line "Greeks Take the Lead Location Announcement" in advance of the session. The first session is on February 1st and they will continue throughout March. Please see the photo below or the attached document for the specific dates and times for the general member sessions. 
Alternative education is available for individuals who believe that attending a session about gender-based violence prevention will be too difficult for them given past experiences. Alternative education can be accessed through the registration form or through contacting gttl@msu.edu directly. Please note that the gttl@msu.edu inbox is monitored by Prevention, Outreach and Education staff who are exempt resources on campus, meaning that we are not required to file a report of any instances of gender-based violence that we learn about. 
If you have additional questions, comments, or concerns, please reach out to gttl@msu.edu. We look forward to having you in attendance!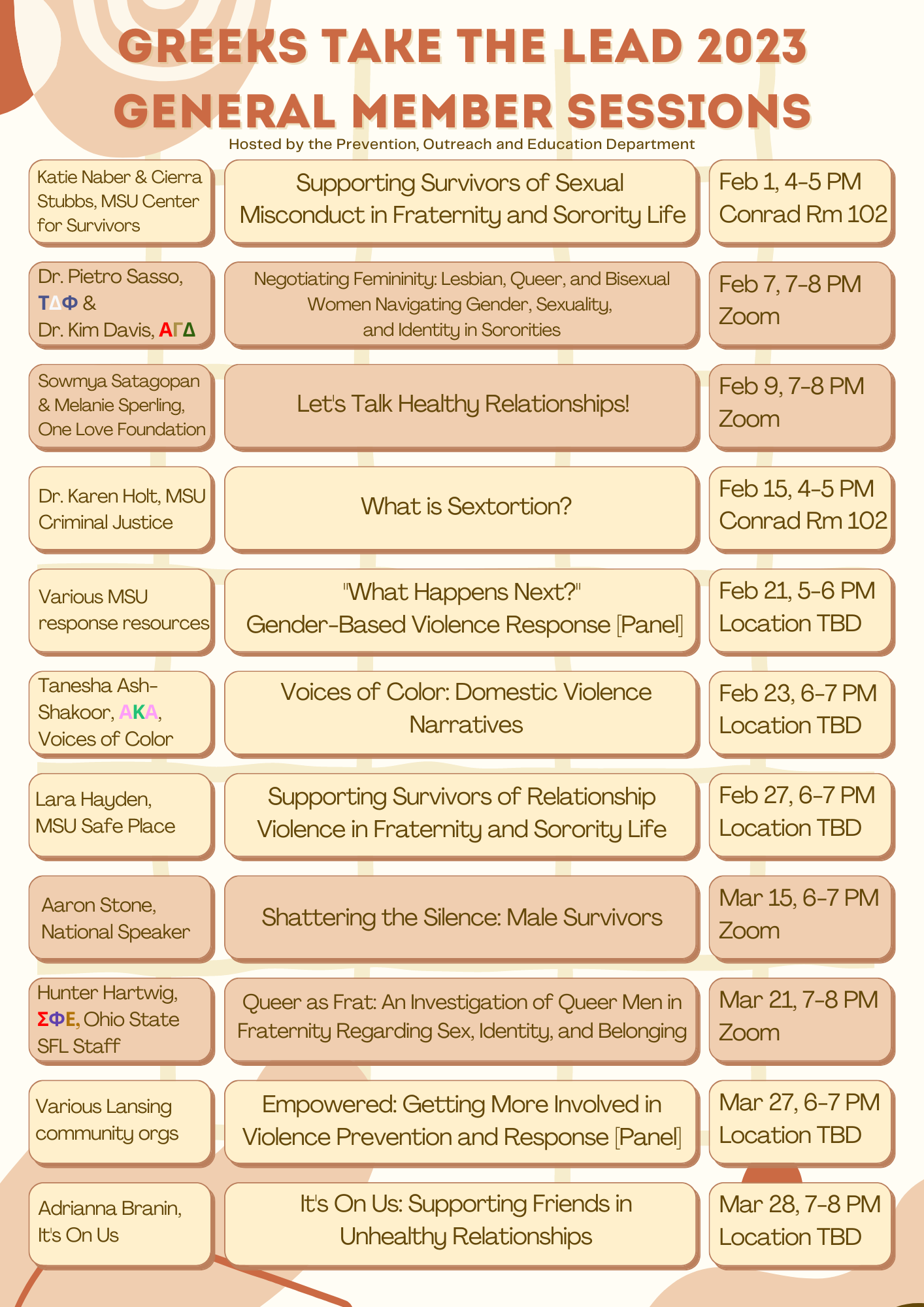 FAQ

Greeks Take the Lead Resource Guide for Relationship Violence and Sexual Misconduct (RVSM)
Check out our resource guide specifically designed for students in fraternities and sororities! 
This guide provides information on reporting RVSM incidents, supporting survivors of sexual or relationship violence, intervention strategies and support resources for survivors (and co-survivors). 
Request a Training
If you would like to request a training from POE please fill out the Training Request Form.
Please note that educational programs are intended for groups affiliated with the University. POE is able to work with your group to tailor workshop content/delivery to your specific needs. Please allow us at least two (2) weeks for scheduling a training, especially if you would like a customized workshop for your group. Workshops are free of charge. For further questions email GTTL@msu.edu.